Ok you guys, Pinterest has been good to me lately.
I've tried several recipes from there as of late but these are ones that I couldn't help but share with you.
Roasted Shrimp and Spaghetti Squash
This may not interest some of you but I happen to adore spaghetti squash.
My whole family does.
Topped with yummy, roasted shrimp is even better.
Thai Ramen Noodle
I've seen a few people call this pad thai.
It's not.
But it is a super easy way to make ramen more glamorous.
And it's really, really good.
I'm linking up today with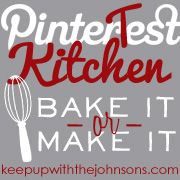 You can follow my Pinterest boards here